by Jenni Page-White on November 22, 2019
The Art of Costuming A Christmas Caorl Charles Dickens's classic tale of redemption is a yuletide tradition at Actors Theatre, ushering in the warmth of the holidays with stunning visual spectacle and no shortage of theatre magic. It's a wonderfully ambitious annual project for Actors Theatre's Costume Department, since it involves maintaining and fitting hundreds of individual costume pieces, wigs, hats and accessories.
A Christmas Carol boasts one of our largest casts each season, and the narrative spans more than 60 years of fashion as miserly Ebenezer Scrooge travels through the happy memories of his past, the harsh realities of his present, and the grim fate that might await him. It's no small feat to coordinate the numerous costume changes that happen behind the scenes during each performance, and a lot of strategic planning goes into making the process run smoothly from first fitting to closing night. Below, see some of the gorgeous designs and eye-popping fabrics that make this production such a visual feast.
More than 40 wigs and facial hairpieces are used in A Christmas Carol to create different character looks.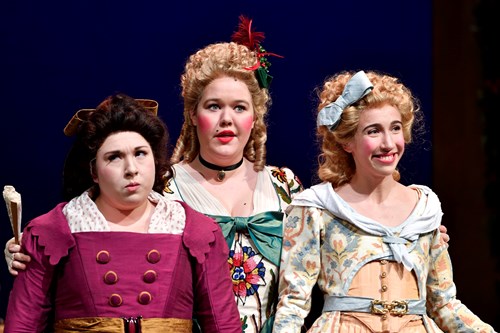 Mrs. Fezziwig (Taylor Abels) presents her daughters (Ash Patlan and Avery Deutsch). Photo by Jonathan Roberts, 2018.
The show's costumes are built from a dizzying array of fabrics, from muted wools and tweeds to vibrant taffetas and rich velvets.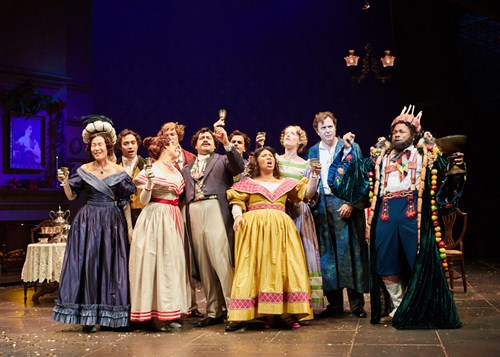 The cast of A Christmas Carol. Photo by Bill Brymer, 2017.
Hats, scarves, mittens and cloaks help create the feeling of a crisp winter day.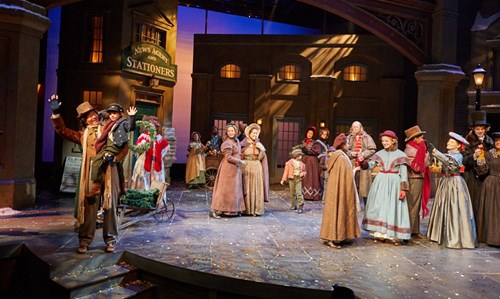 Spreading holiday cheer on the chilly streets of London. Photo by Bill Brymer, 2017.
This year, our production of A Christmas Carol features 24 actors playing 70 roles, with costumes that span different fashion periods (the late 18th century into the mid-19th century), regions (Continental European and British trends) and genres (realism and fantasy). In the Costume Department, it typically takes our staff of 14 people about seven weeks of full-time work to get all the costumes fit and altered for the cast. It's not uncommon for us to have the Christmas Carol costumes decorating our workroom in September, way before most people have planned their Halloween costumes!
Mike Floyd, Actors Theatre's Costume Director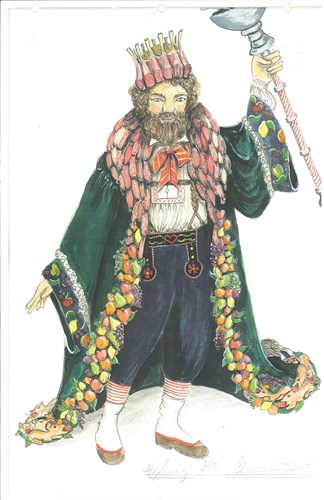 Costume Designer Kristopher Castle's rendering of the Ghost of Christmas Present. 
—Jenni Page-White