See four plays that highlight exciting poetry, music, movement and dance this Fall and Winter.
Join us as a season ticket holder and see why theatre is equal parts vibrant and vital.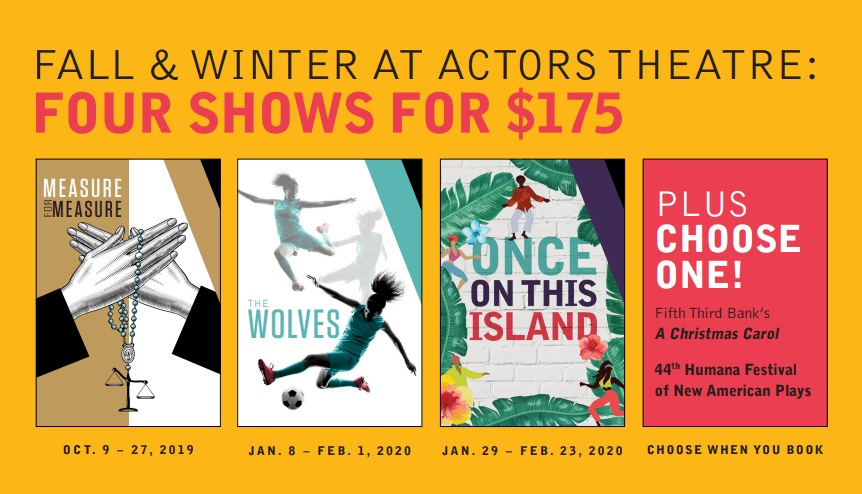 Book Your Package
Mini Package with Fifth Third Bank's A Christmas Carol
Mini Package with a show from the Humana Festival of New American Plays
FAQ
Where are my seats?
You will be seated in the best available seats at time of booking. As a Season Ticket holder, you will have access to excellent seats.
Can I choose my preferred performance?
Patrons will select the day of the week in which they would like to attend their lineup of shows. While we always do our best to accommodate any patron wish, we cannot guarantee our ability to accommodate requests for seating into specific performance dates.
As a season ticket holder, you may take advantage of our complimentary exchange policy. Please review the policy, as upgrade fees may apply.
Can I exchange one of my tickets for another show, such as Hype Man?
This offer is only valid for Measure for Measure, The Wolves, Once on This Island, and your choice between A Christmas Carol and the 44th Humana Festival of New American Plays, which must be selected at the time of booking.
Hype Man is not available as part of this special Mini package. However, standard Brown-Forman season ticket packages are still on sale, and include a seat at Hype Man.
What Humana Festival production will I see?
We are still securing the lineup for the 44th Humana Festival of New American Plays. We will select a production and performance date for you, and as a Season Ticket Holder, you may exchange your ticket into a performance of your choice once we announce the lineup in November, 2019.
Book Your Package