Sensory Friendly Guide
SYNOPSIS
Professor Van Helsing, a notable expert in the occult, arrives at the estate of an old friend, Dr. Seward, amid whispers of gruesome attacks and strange goings-on. Seward's fiancée, Mina, has recently died of a sudden and mysterious illness, and Mina's friend, Lucy, has begun to display the same symptoms. Could it be that Mina, and now Lucy, have suffered at the hands of a vampire? How will Van Helsing and Seward fight this supernatural fiend?
SETTING
In and around Dr. Seward's sanatorium in Purley, England, and Dracula's Castle in Transylvania. 1893.
Audience Advisory
This show includes effects such as fog, traps moving in the floor causing sudden changes to the stage, noise and strobe light mimicking thunder and lightning, the use of fire, simulated explosions, gunshots, use of fake blood, wolves howling and the use of flashlights in the dark. Violence includes fighting and physical combat that may be accompanied by bloodshed. Content includes suicidal intent and murder. Characters frequently move throughout the theatre and interact with the audience in ways that can be scary or surprising. When characters are possessed, their voices will become distorted and their movements will become strange to mimic them being unable to control their bodies. During the show, characters are in emotional states during which they may scream or make a lot of noise, including slamming doors and slamming items on surfaces.
CAST OF CHARACTERS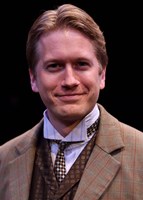 Dr. Seward — Head doctor at the asylum; mourning the death of his fiancée, Mina.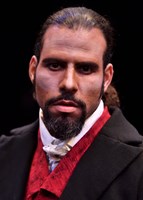 Count Dracula — Dr. Seward's new neighbor; recently moved from Transylvania. His actions are creepy and hypnotic, and his cape movements can be showy.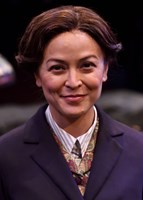 Professor Anna Van Helsing — Old friend of Dr. Seward; comes to help Lucy.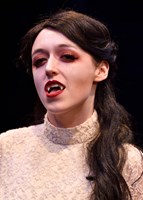 Mina — Dr. Seward's fiancée; recently died of a mysterious illness involving a sudden loss of blood.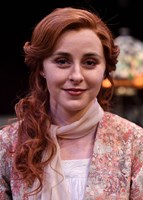 Lucy — Mina's friend; displaying the same troubling symptoms as Mina.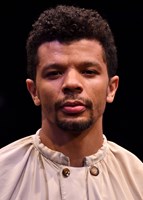 Jonathan Harker — Lucy's fiancé; he went missing during a trip to Transylvania.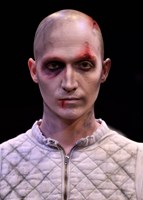 Renfield — Unpredictable psychiatric patient; receiving treatment from Dr. Seward. He frequently screams and has meltdowns, but he can also be funny.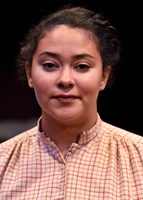 Ms. Sullivan — Dr. Seward's assistant.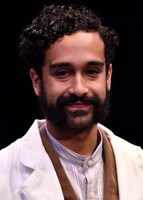 Mr. Briggs — Dr. Seward's orderly; responsible for maintaining order among the patients.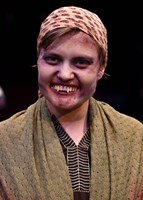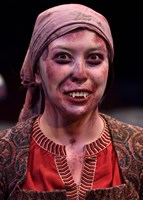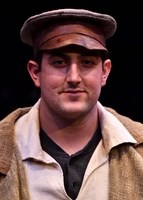 The Undead — Vampires under Dracula's control; chase others and feed on their blood.
Sensory Intense Moments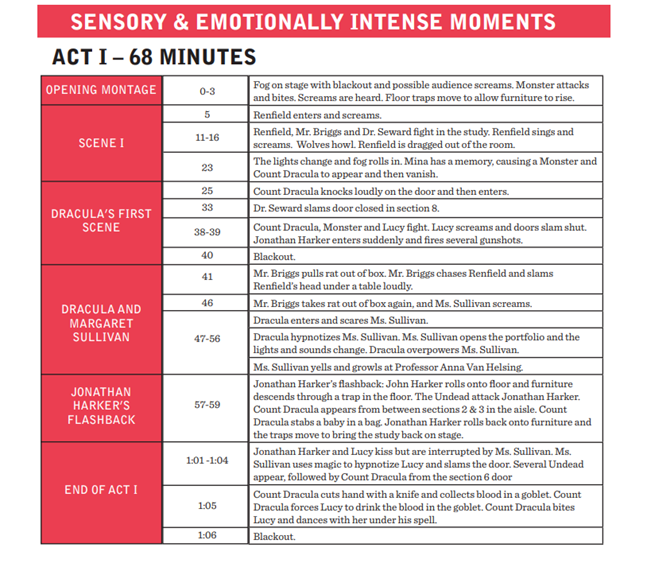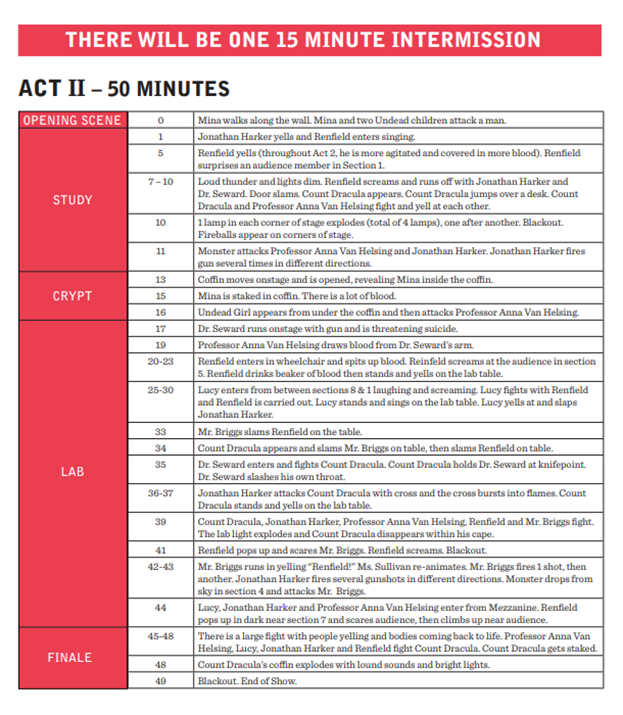 ---
Choices While At The Show
Here are a series of options you have while attending Fifth Third Bank's Dracula.
Before the play…
— Enter the theatre building
— If needed, pick up your ticket at the Box Office
— Before or when the announcement is made on the speakers, enter the theatre and find your seat
— Sit down in your seat
— Listen to the pre-show announcement speech
During the play…
— Stay seated and watch the play
— Move to one of the standing room sections at the back of the theatre to stand while watching the play
— Move to the lobby to watch the play from a TV monitor
— Move to the lobby to take a break with no monitor and less noise
*If you choose to leave the theatre during the performance, a house manager will escort you back inside at their discretion.
During intermission…
— Stay in your seat
— Or go to the lobby. In the lobby, you can:
– Use the restroom
– Look at the art in the lobby
– Buy food or drink at the Mezzanine bar
– Before or when the announcement is made, return to your seat to watch the second part of the show.
After the play…
— If you enjoyed the show, applaud during the curtain call when the actors bow 
— Exit through the Mezzanine level Or stay seated until most of the crowd has exited to the lobby and then leave at your own pace
---
Explosions & Fire: Pyrotechnical Moments
Actors Theatre encourages all of our audience members to engage with this performance in ways that are most comfortable for you.
Actors Theatre of Louisville is committed to a judgement-free experience for all audience members. While attending this performance, you might see a variety of behaviors, including:
Stimming: a physical or verbal response to over- or under- stimulation that can provide self-regulation or self-expression. This might be repeated hand-wringing, rocking or clapping.
Echolalia: Some patrons may repeat phrases, quotes and speech. Sometimes, this aids comprehension, and sometimes, this can be a calming or relaxing activity.
Tics: Involuntary movements or vocal sounds (please note: tics and stimming are separate behaviors)
Touch Sensitivity: Some patrons may be very uncomfortable with physical touch from others and/or aware of the sensation of materials on their skin.
Alternative Communication: Some patrons might use non-verbal forms of communication in response to over- or under- stimulation. Types of communication can vary and can include: sign language, typing, body language, facial expressions and/or using pictures.
Fidgets: Some patrons may bring small objects with them to a performance – like stress balls, sewing pads or putty. Using these objects can relieve stress, aid relaxation and increase focus.
Sensory and Emotionally-Intense Moments: The ushers at each performance will have a list of sensory intense moments throughout the play. For example, the list may note lights, sound effects or other sudden changes that could be overwhelming to some patrons.
Special thanks: Talleri McRae, The Kentuckiana Autistic Spectrum Alliance (KASA), Autistics United Kentucky, The Kentucky Autism Training Center and Heidi Cooley-Cook, Micah Peace, Bev Harp, Erin Fitzgerald, Cody Clark, Peyton Stockdale and Natalie Ambrosino.