by Team Actors on March 29, 2023
March 28, 2023—Actors Theatre welcomes back the award-winning ensemble UNIVERSES (Ameriville, Slanguage, Rhythmicity) for a kinetic mix of poetry, jazz, blues, hip-hop, boleros, salsa, and storytelling. Party People is a dynamic performance that illuminates the complex legacy of these revolutionary movements, and the potential for cross-cultural coalitions to bring power to the people. Performances are in the Pamela Brown Auditorium April 5-16, 2023.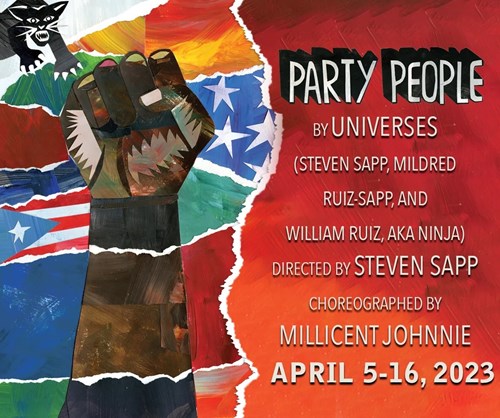 https://www.actorstheatre.org/shows/2022-2023/party-people/
Party People is a musical conceived/written/composed by UNIVERSES (Steven Sapp, Mildred Ruiz-Sapp, William Ruiz aka Ninja), directed by Steven Sapp, and choreographed by Millicent Johnnie, based on dozens of interviews with members of the groundbreaking, society-changing groups the Black Panther Party and the Puerto Rican Young Lords Organization. Party People imagines a present-day reunion at an art opening curated by two young counterculturalists. The curators have complex relationships with the Party members, who fought injustice and provided free food and medical care for their communities—often at the expense of the people who loved them most. Old wounds and generational divides collide in this astonishing, multimedia theatrical event about the price of being a revolutionary and what it means for those who come after.
On Saturday, April 8 at 3 p.m., before that evening's performance, the public is invited to "Power to the People: A Community Conversation," a free event at the theater with former members of the Black Panther Party and the Young Lords Organization. Actors Theatre of Louisville will also host a Poetry Pop-Up event at Louisville 's Trouble Bar on Tuesday, April 11 from 5-8 p.m., and there will be a pre-show networking event with the National Puerto Rican Chamber of Commerce on Thursday, April 13 at 6 p.m. before that evening's performance. Follow Actors Theatre of Louisville's social media accounts for more information.
Discounted tickets for students and educators are available for $15 plus fees on Wednesdays, April 5 and April 12. Contact boxoffice@actorstheatre.org to order. Additionally, there is closed captioning on Sunday, April 9 at 2 p.m. and Thursday, April 13 at 7 p.m. The performance on Sunday, April 16 will include ASL interpretation.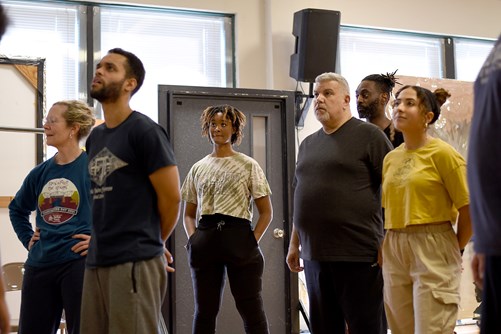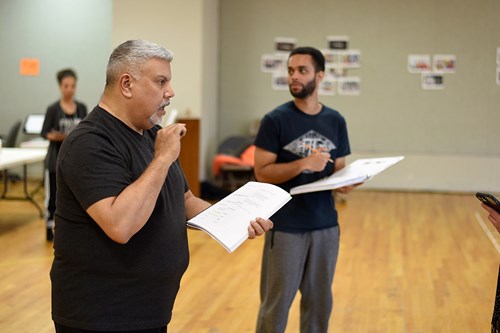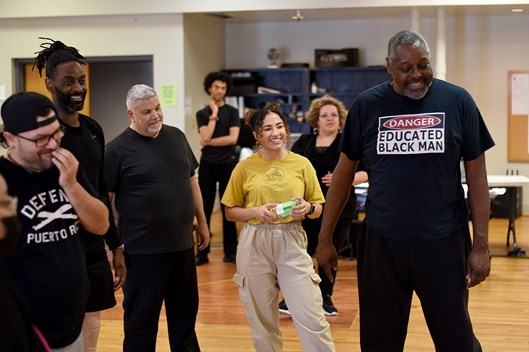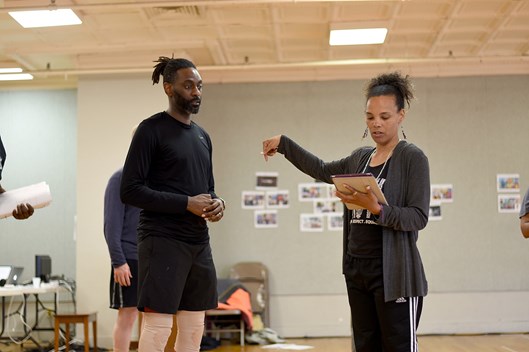 Rehearsal photos for Actors Theatre of Louisville's production of Party People:
Photo 1: Robynn Rodriguez, Pascal Arquimedes, Asia Mark, JL Rey, Nate John Mark, Angelica Santiago
Photo 2: Millicent Johnnie, JL Rey, Pascal Arquimedes
Photo 3: William Ruiz aka Ninja, Nate John Mark, JL Rey, Kavin Moore, Angelica Santiago, Mildred Ruiz-Sapp, Michael A. Shepperd
Photo 4: Nate John Mark, Millicent Johnnie
Photo Credit: Philip Allgeier and Actors Theatre of Louisville
Originally commissioned by Oregon Shakespeare Festival, Party People was a finalist for the Edward M. Kennedy Prize for Drama, with The New York Times calling it "heartbreakingly timely and intensely necessary. Many in the audience had visceral responses to the piece, which asked them to confront a 20th-century history of civil disobedience and to then contemplate what resistance they might offer in the 21st."
---
UNIVERSES is an ensemble of talented multi-disciplined theater artists who explore the intersections of art, theater, music, dance, culture, politics, and history in order to create moving, challenging and entertaining works for the stage. In the process, Founders and Artistic Directors Mildred Ruiz-Sapp and Steven Sapp have built their own unique brand of storytelling that they have performed at venues throughout the United States and have toured extensively worldwide.
This production of Party People features the exemplary work of actors Pascal Arquimedes, Asia Mark, Nate John Mark, Robin McGee, Patrick Noonan, Sophia Ramos, JL Rey, Robynn Rodriguez, William Ruiz aka Ninja, Mildred Ruiz-Sapp, Angelica Santiago, and Michael A. Shepperd.
The creative team for Party People includes Sound Designer/Music Director Broken Chord, Scenic Designer Jason Ardizzone-West, Costume Designer Christopher Vergara, Wig Designer Cherelle Guyton, Lighting Designer Jorge Arroyo, Projection Designer Philip Allgeier, Stage Manager Joan Foster McCarty, Assistant Stage Manager Dawn Marie Kelly, Production Assistant Megan Meyer, Waymakers Erin Washington & Sola Bamis, Assistant Director Kendra Ware, and Assistant Choreographer Kavin Moore. Casting by Amelia Acosta Powell, CSA; Kavin Moore; and Emily Tarquin, CSA. For the full list of credits, please click here.
---
Please contact Communications Coordinator Ben Gierhart at bgierhart@actorstheatre.org to discuss complimentary tickets and coverage opportunities. Any university groups interested should contact boxoffice@actorstheatre.org for student and educator discounts. We appreciate your support as we reimagine a 21st-century theatre where art, technology, and social transformation meet for a Storytelling (r)Evolution.
---
Supported By: