by Team Actors on September 06, 2023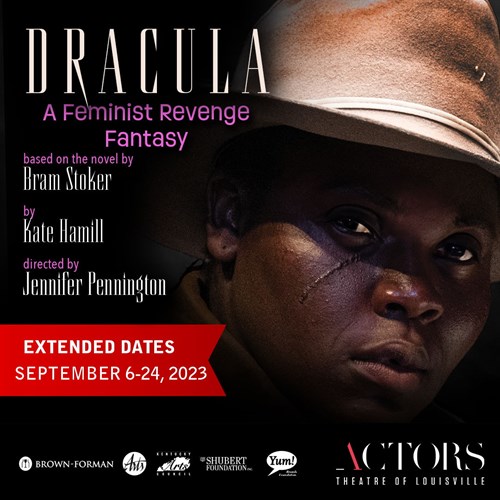 actorstheatre.org/shows/2022-2023/dracula-2023/
The world's most famous vampire is back! This year's Dracula boasts the return of director Jennifer Pennington as well as the exceptional cast from last year's production, predominantly composed of talented local artists.
Witty and terrifying, Kate Hamill's Dracula is a stunning adaptation that embraces the tradition of the monster myth, and celebrates the power of communities that unite against the woes that trouble them. Join us at Actors Theatre of Louisville as we tell the latest iteration of this enduring story and endeavor to take down the Vampire!
Discounted tickets for students and educators are available for $15 plus fees on Wednesday nights, September 6, 13, and 20. Additionally, there is closed captioning on Sunday, September 10 at 2 p.m. and Thursday, September 14 at 7 p.m. The matinee performance on Sunday, September 10 will also include ASL interpretation.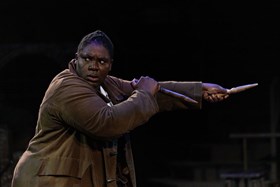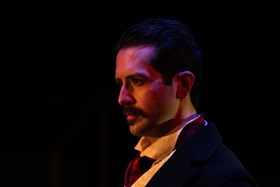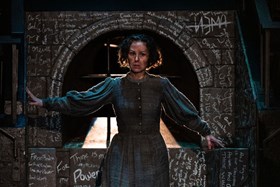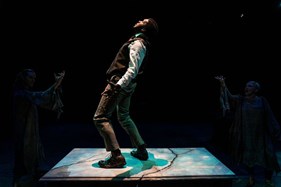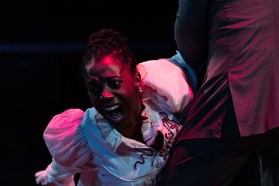 Photo 1: LaShondra Hood (Doctor Van Helsing)
Photo 2: Nick Jordan (Dracula)
Photo 3: Abigail Bailey Maupin (Renfield)
Photo 4: Justin Jackson (Jonathan Harker)
Photo 5: Brittany "BeeBee" Patillo (Lucy Westenra)
Photos by Jon Cherry, from Actors Theatre of Louisville's 2022 production of Dracula: A Feminist Revenge Fantasy.
---
Actors Theatre of Louisville also invites audiences to participate in community events held within our theater complex during Dracula's run that inspire social connection, transformation, and healing:

• On September 7 at 5:30 p.m., "semi;colon: Storytelling for the Brave" from Seven Counties Services, an evening of inspiring and uplifting storytelling that unites community members who seek to transform their experiences with suicide through art. In the Victor Jory Theater and only $5 to RSVP!

• A partnership with NAMI Louisville that presents, at no cost, the work of visual artists from Louisville and southern Indiana. This thought-provoking art show, "Seeing the Invisible: Perceptions of Mental Health," is on display in our lobby spaces throughout the run of Dracula. Don't miss the special opening reception on September 9 at 4 p.m. in the Sara Shallenberger Brown Lobby!

• On September 14 at 10 p.m., The After Show Show, the first in a series of late-night cabarets hosted by fierce drag queens Dusty Ray Bottoms and May O'Nays. Seating is available starting at $5 in the Victor Jory Theater.

No matter how you'd like to participate, there's a place for you in the Storytelling (r)Evolution at Actors Theatre of Louisville! Learn more at actorstheatre.org.
---
This production of Dracula: A Feminist Revenge Fantasy features the exemplary work of performers Alanna Darby, LaShondra Hood, Justin Jackson, Nick Jordan, Abigail Bailey Maupin, Mark Mozingo, Brittany "BeeBee" Patillo, Lipica Shah, Dara Jade Tiller, and Jessica De La Rosa, who understudies the role of Renfield and is scheduled to perform Sept. 21-24.
The creative team for Dracula: A Feminist Revenge Fantasy includes Fight Director and Intimacy Coordinator José Pérez IV, Voice and Dialect Coach Joy Lanceta Coronel, Fight Captain Mark Mozingo, Scenic and Props Designer Katelin Ashcraft, Costume Designer Anna Jenny, Lighting Designer Dani Clifford, Sound Designer Paul Doyle, Stage Manager Shaina Pierce, Assistant Stage Manager Ashley Hall, and Production Assistant Megan Meyer. Casting by Emily Tarquin, CSA. For the full list of credits and biographies, please click here.
---
Please contact Communications Coordinator Ben Gierhart at bgierhart@actorstheatre.org to discuss complimentary tickets and coverage opportunities. Any university groups interested should contact boxoffice@actorstheatre.org for student and educator discounts. We appreciate your support as we reimagine a 21st-century theatre where art, technology, and social transformation meet for a Storytelling (r)Evolution.
---
Support By: