by Kathryn de la Rosa on March 20, 2020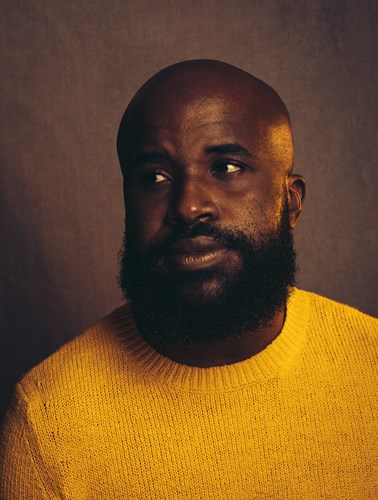 Jeff Augustin's plays have traveled north, from Haiti to Miami to New England, and now that he's based in California, Where the Mountain Meets the Sea follows him westward.
Splitting his time between writing for the stage and for television, Augustin is at a turning point. "I'm having a moment in my life where I'm questioning what inspires me," he says. He's reckoning with the distance that comes with leaving home and spending less time with the Haitian culture that so closely influenced his creative genesis. But he's also encountered an even wider range of experience and geography he can draw from. "Land—location—is always where I start a story, because it always determines the rhythm of it," he reflects. The youngest of seven, Augustin is one of the only members of his family born in the United States rather than Haiti, and he grew up surrounded by the lore of his elders. "Storytelling is so important in my family," Augustin notes. His mother always thought he'd be a writer because of how he played as a child. "I created all these stories and played all the characters," he recalls. His sibling nearest to him in age was five years older, leaving him alone with his imagination.
Augustin's first plays are set in Haiti, and in Miami with Haitian characters. Cry Old Kingdom takes place in 1964, at the cusp of either repression or revolution as Haitian president François "Papa Doc" Duvalier consolidates power. Augustin's mother moved to America in 1979, and much of the play comes from recollections of her childhood. The Last Tiger in Haiti follows its characters, a group of teenagers who use Haitian story tradition as an escape from their lives, as they move from Haiti to Miami. And Miami is the setting of Little Children Dream of God, a play that riffs on Augustin's mother's arrival in the U.S.
Earlier in his career, Augustin was wary of how his writing represented Haiti, until he read Haitian-American writer Edwidge Danticat's essay collection Create Dangerously: The Immigrant Artist at Work. In the book, Danticat describes her struggle with what she could write about Haiti, following backlash from Haitians who read her acclaimed 1994 novel Breath, Eyes, Memory. Learning how Danticat, whom Augustin considers "the most authentic Haitian novelist ever," dealt with the same pressures he felt, Augustin made peace with his relationship to Haiti. "You write what you know, and I'm writing the Haitian stories I know—my mom's, my dad's, my family's experiences," he explains. "There will be other Haitian writers with other perspectives."
Augustin left Miami to attend Boston College and has moved around ever since. "In a couple of years, I'll have lived at least half my life home and half my life not home," he observes. His time in Boston and later New York informed his play The New Englanders, which depicts a mixed-race family in a small New England town and premiered at Manhattan Theatre Club last fall.
Land—location—is always where I start a story, because it always determines the rhythm of it.
The more he's seen of the U.S., the more Augustin questions the meaning of "American." He's always been aware of his own hyphenated American identity, especially relative to his Haitian-born siblings, but his questioning goes further than that. "This country is huge," Augustin says. "Everyone is so different; every place is so different. There is no single America." Co-writing the bluegrass-infused That High Lonesome Sound, a 2015 Humana Festival commission created for the Professional Training Company, deepened his appreciation for Southern Appalachia in particular, a region he revisits in Where the Mountain Meets the Sea.
Through all his cross-country journeys, Augustin has picked up not only the sound and language of each place, but also collaborators such as Where the Mountain Meets the Sea dramaturg Sarah Lunnie, a
classmate from Boston College, and the production's director, Joshua Kahan Brody, whom he met in graduate school at the University of California, San Diego. Brody directed both Little Children Dream of God at UCSD and the co-world premiere of The Last Tiger in Haiti at La Jolla Playhouse and Berkeley Repertory Theatre, and Augustin is excited to return to the Humana Festival with an incredibly close friend at the helm. "I gravitate toward certain artists, people who swim in the same pool of curiosity as me, and I just don't let them go," Augustin says of his artistic community.
This community includes Actors Theatre, which Augustin considers a home for his work. Cry Old Kingdom premiered in the 2013 Humana Festival, while he was still a graduate student; it was his first professional production. He's returned to the Festival twice since then: in addition to That High Lonesome Sound, Augustin was commissioned for another PTC collaboration, 2017's The Many Deaths of Nathan Stubblefield. Looking back at the Jeff Augustin who wrote Cry Old Kingdom as he anticipates this year's Humana Festival, he remarks on how he's come further into his own voice, and left behind perfectionism.
"My toolbox has become larger," Augustin adds. "I'm more willing to fail now than I was back then. I'm more willing to explore."
—Kathryn de la Rosa