by Team Actors on June 16, 2021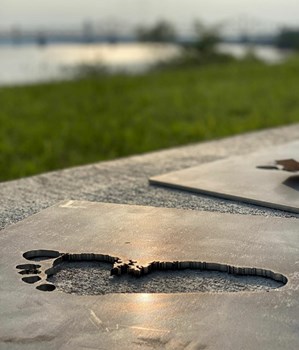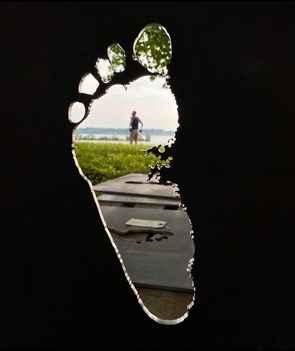 Metal stencils were created by Rockerbuilt as part of the next phase of installation for On the Banks of Freedom. Photos by Josh Miller of IDEASxLab.
The (Un)Known Project in Louisville is both a memorial to enslaved people whose stories will never be uncovered, and a challenge to unearth narratives hidden in attics and archives.
Juneteenth marks the announcement of the Emancipation Proclamation. While the Emancipation Proclamation was signed in 1863, we understand that historically and currently with COVID-19 and the racial uprisings of 2020 that we still have a long way to go when it comes to facing racism, health disparities, and medical mistrust.
The Project is led by Hannah Drake and Josh Miller as a collaboration between artist-led nonprofit IDEAS xLab, along with Roots 101, Frazier Museum, and Louisville Metro.
The event will begin at noon at @roots101aam with a welcome and performances, followed by A Journey In Our Footprints walk around 12:30pm. River City Drum Corps will lead the 0.9 mile walk with stops on the way. Make sure to get a re-fillable water bottle from @louisvillewater!

On the Banks of Freedom will be unveiled and dedicated at 1:30pm on the Waterfront, between 9th and 10th Street.
• Event and project information found here: (Un)Known Project — IDEAS xLab
• Read about Hannah L. Drake and the (Un)Known Project in the New York Times
• Watch Now! Fix It Black Girl by Hannah L. Drake