by Liam E. Gibbs on March 19, 2020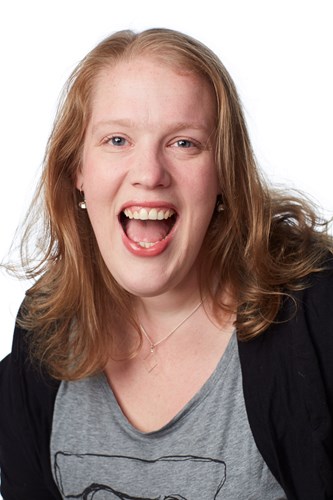 Morgan Gould never intended to become a playwright.
She studied directing as an undergraduate at Fordham University and began her career directing short plays, as well as developmental readings and workshops. After assisting prominent directors like Lisa Peterson, Pam MacKinnon, and Sam Gold, she became associate artistic director of Young Jean Lee's Theater Company. But although Gould yearned to direct her own productions of compelling new works, she struggled to find available plays that excited her. "I was really frustrated," she remembers. "I was an 'emerging director,' so the plays that I responded to went to directors who were way fancier than me.
With a little convincing from her actor friends, Gould took matters into her own hands and founded her own theatre company. Morgan Gould & Friends is a collective of performers and designers who blend their unique brand of comedy with a desire to push theatrical boundaries beyond kitchen-sink realism—and to create a space for those left out of mainstream entertainment, like "gays, fatties, freaks, dorks, weirdos," as Gould proclaims in the company's mission statement. Once the ensemble developed a shorthand for working together, creating short pieces such as a three-man adaptation of Shrek and an exploration of body image through the lens of The First Wives Club, company member Amir Wachterman convinced Gould to come up with "bad" original plays. These pieces preserved the daring and playful spirit the group had established, while allowing Gould to write to her actors' strengths. And because the plays were ridiculous on purpose, creating them felt like a fun experiment with low stakes. After Losing Tom Pecinka, her first (intentionally terrible) full-length play, premiered at HERE Arts Center in 2012, Gould realized she really had something to say. So she began writing more personal full- length plays, eventually obtaining an M.F.A. in playwriting/screenwriting from Brooklyn College and a Lila Acheson Wallace Playwriting Fellowship from Juilliard.
Recently, Gould's plays have drawn primarily from her experiences, both curiosities and traumas,
as a self-identified fat woman in contemporary America. Regarding her inspirations, she says, "I need to be really angry or really sad about something. It needs to bubble up in me over a long period of time. I don't know any other way to write. Usually it turns out that whatever is making me angry or upset is something universal, even though it comes from something that's affecting me." For example, when her mentor Mac Wellman dared her to write a living room drama for her Brooklyn College M.F.A. thesis, Gould asked herself what could potentially come between her and her best friends, both gay men. The result was I Wanna Fucking Tear You Apart, a play that snarkily explores a codependent friendship between two roommates, a fat woman and a gay man, who must come to terms with shifting compatibilities in their lifestyles, loyalties, and ambitions. It premiered under Gould's direction at Studio Theatre in Washington, D.C. in 2017 and was nominated for the 2018 Helen Hayes Award for Outstanding New Play. Her play All the Stupid Bitches, which was written while she attended Juilliard and has been developed at New Dramatists, the Playwrights' Center, Ensemble Studio Theatre, and IAMA Theatre, indicts a group of suburban white women for their apathy and insensitivity toward those who are different from them. Set during a recruitment party for a cosmetics pyramid scheme, the play is Gould's response to the indifference displayed on Facebook by some of her former high school classmates after the 2016 election. Meanwhile, Nicole Clark is Having a Baby comes from a similarly intimate place, inspired by Gould's relationship with her mother and her wider observations of how feminism changes between generations.
I need to be really angry or really sad about something. It needs to bubble up in me over a long period of time. I don't know any other way to write.
Gould's practice as a director is more deliberate and, in her words, "emotionally lighter" than her practice as a playwright. She often directs the premieres of her own plays; in fact, she writes with the intention to direct in mind because in her view, directing is the fun part. "I picture the play on a stage, and then I write as fast as I can to catch up with the images in my brain and what the characters are saying," she explains. "To me, playwriting and directing are inherently connected, and the math of balancing the two is an exciting challenge." During the rehearsal process, Gould takes full advantage of her dual roles, making script changes as needed to solve production challenges or incorporate spontaneous new ideas. On the creative benefits of doing both at once, she remarks, "When I'm feeling freaked out as a playwright, the director me can come to rehearsal and be confident that day."
Gould is no stranger to the Humana Festival: in 2018, she helmed God Said This, by frequent collaborator Leah Nanako Winkler. Two years later, she's excited to be back in Louisville with Nicole Clark is Having a Baby as both playwright and director. "Directing is a really fun job, while playwriting is super vulnerable and scary," she reflects. "I truly never thought I was an actual writer. It took me a while to get to a place where I could reveal my inner terrors to audiences and, worst of all, to myself. But I'm glad I get to push myself to that place now."
—Liam E. Gibbs