by Team Actors on January 23, 2023
Jan. 23, 2023—Indie-folk duo Abigail and Shaun Bengson (The Keep Going Song, Where the Mountain Meets the Sea) return to Actors Theatre to develop this story about losing and finding faith, movingly told through song. Ohio traces Shaun's journey growing up in the church, discovering his voice through music, and experiencing the hearing loss passed down through generations in his family. This intimate concert is an invitation to join The Bengsons in celebrating the choice to live joyfully in the face of so many unanswerable questions. All performances are open captioned in the Victor Jory Theater. The performance on Thursday, January 26 will include ASL interpretation. Performances run Jan. 18-28, 2023.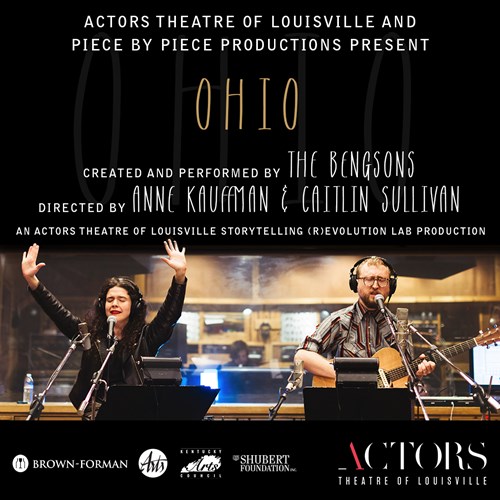 https://www.actorstheatre.org/shows/2022-2023/ohio/
Actors Theatre of Louisville has a long history of developing new work, and this endeavor continues in the Storytelling (r)Evolution Lab—a research and development (R&D) space of year-round innovation and experimentation that creates opportunities to invest in nurturing artists and creative collaborations at the intersection of artistic practice and holistic health. 
Ohio, created and performed by The Bengsons (Richard Rodgers Award for The Lucky Ones and nominations for the Drama Desk, Drama League, and Lucille Lortel awards), is the latest project under the Storytelling r(E)volution Lab banner. Actors Theatre of Louisville welcomes The Bengsons back after previous collaborations on The Keep Going Song and Where the Mountain Meets the Sea—a show that received its world premiere at Actors Theatre of Louisville and recently concluded an Off-Broadway run. Ohio is being shared as a series of workshop performances, giving audiences an early look at this new work in progress.
A theatrical storytelling experience told in a concert format, Ohio wrestles with such questions as "What happens after we die?" while examining the way Shaun Bengson's inherited hearing loss intertwines with his journey of losing and finding faith. Part co-authored memoir and part touching voyage into an emotional soundscape, this new work in development is a beautiful testament to the sort of inquires made in tandem by the human mind and spirit.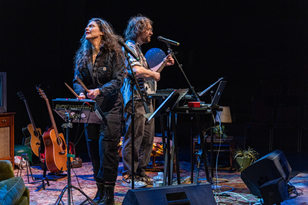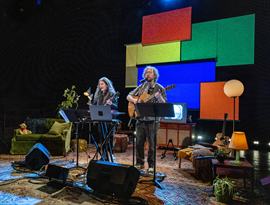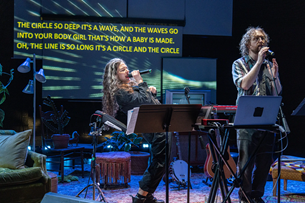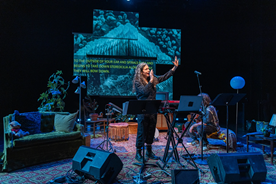 The Bengsons (Abigail and Shaun Bengson)
Photo Credit: Two Hearts Media–Yero

---
The creative team includes Scenic Designer Kimie Nishikawa, Associate Scenic Designer Colleen Murray, Lighting Designer Alejandro Fajardo, Sound Designer Nick Kourtides, Associate Sound Designer Andrew Rovner, Projection Co-Designers Jeff Sugg and Simon Harding, Stage Manager Katherine Nelson, Production Assistant Megan Meyer, Live Captioner Laura Kogut, and Access & Inclusion Consultant Talleri McRae. The piece by piece productions team includes Wendy vanden Heuvel, Kendra Bator, Tom Casserly, and Tess Capern. For the full list of credits, please click here.
---
Invitation to mask
For our current production of Ohio, we are encouraging and inviting audiences to mask to protect everyone in the intimate space from airborne illnesses. Ohio is a mask-affirmative, non-judgmental space where we can all work together to meet each other's individual and communal needs—with no questions asked.
More information on our safety protocols.
---
Please contact Communications Coordinator Ben Gierhart at bgierhart@actorstheatre.org to discuss comps and coverage opportunities. We appreciate your support as we reimagine a 21st-century theatre where art, technology, and social transformation meet for a Storytelling (r)Evolution.
---
Supported By: