by Jessica Reese on October 07, 2019
Saints and Sinners Imagine you're wandering down a city street, and as you stroll from one corner to the next, you're greeted by a line of doors. A door can tell you a lot about what's on the other side, giving you clues about whether you're passing an apartment complex or an office building, a store or a school. But of course, a door is also designed to keep what lies behind it a secret. It's a surprisingly complicated object.


In Fiasco Theater's acclaimed production of Measure for Measure, the people of Vienna navigate a vibrant city full of doors that both let them in and shut them out. And as they're forced to rub elbows on Vienna's busy streets, the saints and sinners in the crowd clash in unexpectedly funny—and sometimes dangerou —ways, discovering that the distinctions between them aren't always so clear. One of William Shakespeare's most provocative plays, Measure for Measure explores why we struggle just to coexist, and whether even the simplest binaries, such as vice and virtue, are as straightforward as we think.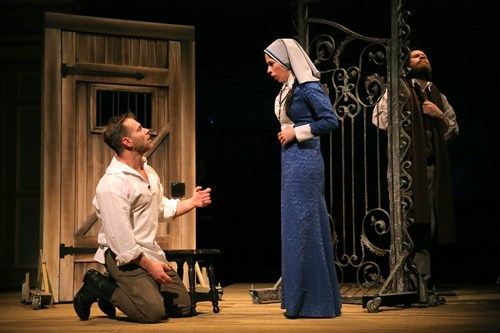 Claudio (Noah Brody) pleads with his sister, Isabella (Emily Young) while the Duke (Andy Grotelueschen) listens in secret in Fiasco Theater's Measure for Measure at Long Wharf Theatre. Photo by Joan Marcus.
As Shakespeare depicts it, Vienna isn't unlike his rowdy, cosmopolitan London, or our own cities
today. Then and now, urban life hinges on power: who enforces the rules, and who has to obey them? The Duke of Vienna is the first to admit he's been lax when it comes to laws around morality and sex, and with little explanation, he steps aside temporarily and appoints straightlaced Lord Angelo to turn the city around in his absence. Right away, Angelo cracks down on Vienna's wicked ways, leaving everyone scrambling—including Mistress Overdone and her wisecracking associate, who try to fend off a constable's clumsy attempts to close her brothel. Angelo's harshness plays out more seriously with a young man named Claudio: in accordance with the law, he's sentenced to death for having sex out of
wedlock. Claudio's only hope is that his sister Isabella, who's about to become a nun, can change Angelo's mind. But at first, Angelo refuses to budge, and all of Vienna finds itself facing what happens when justice leaves no room for mercy.
This focus on an entire community—from a jail to a convent and everywhere in between—is one of the
reasons that Fiasco Theater was drawn to Measure for Measure. "When people who see the world differently are forced to engage, anything can happen," says Fiasco co-artistic director Ben Steinfeld, who helms the company's production with one of his fellow co-artistic directors, Noah Brody. Fiasco's highly collaborative, ensemble-based ethos is well suited to a play that features multiple protagonists and perspectives. And as the company explored Measure, they realized that the play also offers intriguing possibilities for doublecasting, so in their production, almost everyone has at least two roles—a feat for the actors that speaks to the play's themes too. "For us, it has to do with the double-sidedness that Measure is examining," Steinfeld explains. "We try to structure the doubling such that everyone is playing someone from the supposedly more uptown, civilized world, and someone from the underbelly, the part of the culture that everyone keeps denying is there." For example, one actor portrays both devout Isabella and bawdy Mistress Overdone.
"I always prefer questions to answers, and I think Shakespeare does too."
—Ben Steinfeld, co-director of Measure for Measure
Watching one performer skillfully embody such opposite characters suggests that a little bit of both of them exists in all of us. For Steinfeld, that's part of what Measure for Measure is about: "We're all trying to reconcile different parts of ourselves and different impulses we have—the desire to better ourselves and figure out how to be together, and at the same time, the more primal instincts and judgments that reside in us." This is true even for Lord Angelo, whose rigid integrity breaks down as he becomes unable—or unwilling—to control the lust he suddenly feels for Isabella. He offers her an outrageous bargain: in exchange for sex, he'll spare Claudio's life. When she threatens to blow the whistle on him, Angelo argues that no one would believe her. Left with few options, how far will Isabella go to thwart Angelo and save her brother—and herself?
Given Measure for Measure's high-stakes twists and turns, Steinfeld recalls that Fiasco company members were struck by the sense of humor that's central to the play as well. "Certainly it has a lot of politics in it and a lot of darkness," he observes, "but it's also a comedy. It's absurd. And it's full of revelation and surprise." Embracing that complexity is at the heart of Fiasco's approach to Measure for Measure. The result is an actor-driven production that digs into Shakespeare's rich language and multifaceted characters, and takes the audience along for the ride. "We care about the audience deeply," says Steinfeld. "It's about giving them an experience that they can't have anywhere else." It's also about making space to ask tough questions. "I always prefer questions to answers," Steinfeld reflects, "and I think Shakespeare does too." When a city's legal system is tested by both the people who run it and the people it's supposed to keep in line, can order be restored? What does it mean to be good, and what does justice look like for the citizens of Vienna—and for us?

—Jessica Reese
Measure for Measure runs through October 27.