by Hannah Rae Montgomery on September 11, 2019
Speaking Out and Taking A Stand Before rehearsals began for Actors Theatre's production of Hype Man: a break beat play, Resident Dramaturg Hannah Rae Montgomery sat down with playwright Idris Goodwin to talk about what compelled him to create this timely hip-hop drama and why he's thrilled to share it with Louisville audiences.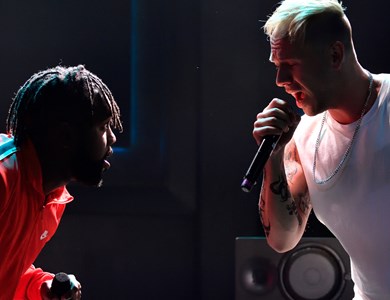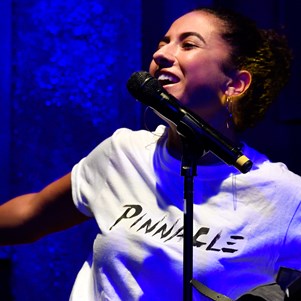 Left to Right: Mykele Deville and Shane Kenyon in Hype Man: a break beat play, Angelica Santiago in Hype Man: a break beat play.
---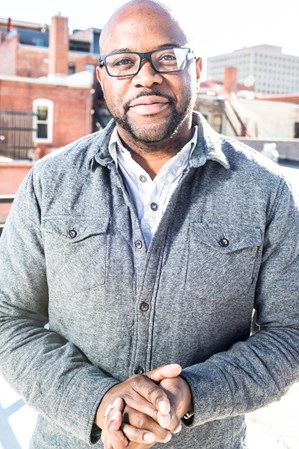 HANNAH RAE MONTGOMERY: What inspired you to write Hype Man, and what is the play about for you?
IDRIS GOODWIN: On a basic level, Hype Man is about a band. It's a workplace drama, the business just happens to be rap music. The play's characters are members of an interracial hip-hop group that's on the precipice of stardom—but their success is threatened when the controversial police shooting of a black youth forces them to confront their differences.
Hype Man is the latest of my "break beat plays." I made a commitment, starting with How We Got On (which premiered in the 2012 Humana Festival), to write a series of plays about hip-hop. And I don't just mean that the plays feature rap. They're also investigating how the invention of hip-hop has affected America, our relationships to one another around issues of race, and the importance of this music for young people trying to find a voice. Hype Man is set around the present moment and addresses contemporary questions like: what does it mean to be an ally? If you're participating in an art form that came from protest movements and represented the disenfranchised, do you have a responsibility to honor those roots? The play is also exploring what it means to be a hype person. The role of the hype man/woman/person in a hip hop crew is to help the primary rapper express their message. The hype person's like a living exclamation point, an accelerator or an engine to fuel what the main rapper's trying to get out there. Hip-hop is about saying difficult things that no one wants to say, but doing it in such a slick way that people nod their heads in agreement. Through the working relationship between Verb and Pinnacle, the hype man and main rapper in this story, the play's looking at hip-hop as a countercultural art form that's become more mainstream— to the point that Pinnacle thinks he can participate while remaining apolitical. But eventually Verb will challenge him to speak out and take a side.
HRM: What do you hope audiences will take from the experience of seeing Hype Man?
IG: I wrote this play during the height of the Black Lives Matter movement. The conversation around racially motivated police brutality, and black folks not feeling safe in all spaces, isn't new. It's been going on within the black community and in hip-hop for a long time. But the Black Lives Matter movement started mainstream discourse around this phenomenon. The immediate response from some was censorship, of denying that the black body exists under threat. A lot of people weren't open to hearing what was being said. Hype Man is all about that tension around who has the privilege of remaining unaffected. The conflicts that emerge between Verb (who's black) and Pinnacle (who's white) in the wake of police killing a black teen in their city illustrate that sure, black folks and white folks can share a space, we can consider ourselves friends, but there's a disconnect in how we experience the world. Verb and Pinnacle have had a real connection since childhood, but there's a fundamental difference in each character's sense of urgency related to the shooting. For Pinnacle, the issue of police brutality gets to be more theoretical. For Verb, it's like, No, this could happen to me or my family at any time. This isn't some philosophical discussion, this is my life. Hype Man exists in that intersection. It's asking the audience to consider how we can find ways to say, "I may not completely know where you're coming from, but I'm there for you, and that's more important than whether I understand your experience on a personal level."
HRM: What excites you most about Hype Man being produced here in Louisville?
IG: Again, Actors Theatre is where the first break beat play premiered! If that hadn't happened, I don't know that I would've written this series. Also, until now, I've never lived in the same city where I've received a major production. And to have this production happen at the top of Robert Barry Fleming's first season as the new Artistic Director of Actors, while I'm Artistic Director of StageOne Family Theatre, which has its offices in the same building—that's incredibly exciting. It feels like being part of a greater theatre moment. It's also exciting that Jess McLeod, who's based in Chicago, will be directing; she understands my work on a real molecular level. And there's going to be some great local collaboration, too. Steffan Clark, the choreographer, is from Owensboro, Kentucky. Plus there's a character in the show, Peep One, who's a beatmaker, meaning she creates the tracks that Pinnacle and Verb rap over. So I roped in Rhythm Science Sound, a married couple who are anthropologists, DJs and beatmakers here in town, to provide custom beats. In the script, I encourage theatres producing Hype Man to identify beatmakers in their communities and invite them to make new tracks specifically for those productions. That way, the sounds in every production will have a different flavor because they're reflecting that region. Because theatre encompasses so many kinds of art—costume construction, dance, lights, music, painting, poetry—it's important for us to reach out to artists beyond our usual collaborators. That allows us all to learn from each other and make something new together.

—Hannah Rae Mongomery
Hype Man: a break beat play runs September 11 – October 11.