by Team Actors on January 12, 2023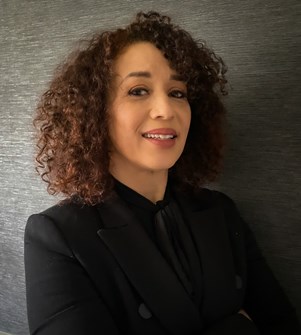 January 12, 2023 - Actors Theatre of Louisville announces Toni Carver Smith as Deputy Director of Advancement and Institutional Operations, a new leadership role that is responsible for developing and implementing a successful plan to secure and grow financial resources and capacity for Actors Theatre of Louisville, providing oversight of the daily administrative and financial operations of the organization; assuring compliance with operational policies and processes, and collaboratively developing new procedures as needed in consultation with the appropriate leadership and stakeholders. Carver Smith will oversee the administrative aspects of the theater's operations to assist in the achievement of its long and short-term goals. 
Toni Carver Smith most recently served in the role of Deputy Director of Operations and Finance at the Speed Art Museum. While at the Speed, she brought the exhibition, "Promise, Witness, Remembrance," which showcased the portrait of Breonna Taylor, painted by internationally renowned artist Amy Sherald, to fruition. Due to Carver Smith's financial and operational leadership during the pandemic, the Speed was in the best financial position since its 2016 reopening. She was also credited with developing the Immersion Program, which provided opportunities for employees to obtain museum experience and tutelage from Speed curators, educators, and administrators.
Prior to the Speed, Carver Smith was with the Presbyterian Church, USA for over a decade where she was instrumental in rebuilding communities in Haiti, working with Indonesian villages to recover from tsunami damage, and advocating political officials on human trafficking as well as food and economic security. During a critical time when nonprofits were under scrutiny, she developed systems to ensure received donor funds—exceeding $20 million for Hurricane Katrina alone—were responsibly accounted for and distributed to those in need. These systems continued to be implemented in the response to the 2011 earthquake in Haiti, Super Storm Sandy, and other major disasters.
In 2008 the trajectory of Carver Smith's career changed, after 15 successful years in the financial industry, serving both small and large institutions such as Louisville Community Development Bank and BB&T, she was led by her passion for social justice and the arts. Now with 25 years of experience in leadership within nonprofits and financial industries, Carver Smith's career has a proven history of delivering sound operational guidance, leading to economic growth and sustainability.
Actors Theatre of Louisville strives to unlock human potential, build community, and enrich the quality of life by engaging people in theatre that reflects the wonder and complexity of our time. Actors Theatre of Louisville's Executive Artistic Director Robert Barry Fleming is excited by the alignment of this mission and Carver Smith's experience. "Toni Carver Smith's extraordinary career to date as a visionary service and capacity builder aligns with Actors Theatre of Louisville's mission, vision, and values centering the intersection of fostering dynamic and resonant art and championing inclusive social transformation in Greater Louisville. Her critical leadership during the development of The Speed Art Museum's landmark exhibition, 'Promise, Witness, Remembrance,' a partnership with the family of Breonna Taylor, is emblematic of her remarkable character as a human being who has her pulse on positivity and sustainability in the evolution of our Greater Louisville communities," he says. "In this fluid environment of change, Actors Theatre of Louisville continues our focus on nurturing community, lifelong learning, and visceral and dynamic artistry. Actors Theatre of Louisville is an arts and culture institution as social enterprise, and I anticipate Toni's contributions will bolster the great legacy of this creative incubator of theatrical excellence that is so deeply valued by so many, allowing it to flourish for years to come."
Actors Theatre of Louisville Board President Scott Schaftlein agrees, adding, "Toni Carver Smith gets results. Her strong leadership has not only allowed patrons of the humanities to see great art that is relevant and in conversation with our nation and our city, she has done so while spearheading substantial growth for the organizations she's worked for in the past. It's no secret that the pandemic presented a host of challenges to arts organizations around the world, but with Toni Carver Smith joining the staff, I am confident that Actors Theatre will continue on its trajectory of becoming one of the regional theaters that comes out of this stronger than ever." 
---
Carver Smith, originally from Louisville, graduated from the University of Louisville with a Bachelor of Science and a Master of Business Administration from Bellarmine University. She and her husband, Ruben Smith have two daughters, Parker a sophomore at North Carolina A&T State University and Sinclaire, a freshman at Jackson State University.