by Team Actors on December 15, 2022
Dec. 15, 2022—Journey into Ebenezer Scrooge's haunted dreamscape as ghostly apparitions and ominous specters endeavor to redeem a broken man before it's too late. This innovative mixed-reality adaptation combines Gregory Maupin's dynamic live performance with a spirit world realized through motion-capture technology, bringing a contemporary lens to Dickens' classic tale of awakening and transformation from greed to grace. The show runs to sold-out audiences in the Bingham Theater Dec. 14-23, 2022.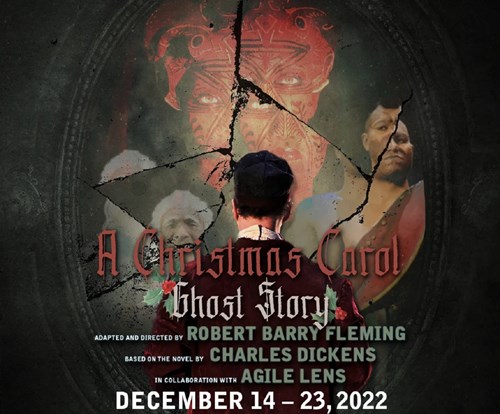 https://www.actorstheatre.org/shows/2022-2023/a-christmas-carol-ghost-story-2022/
Maupin, one of Louisville's most venerated actors, has worked numerous times with Actors Theatre of Louisville (Luna Gale, At the Vanishing Point, Our Town, and Macbeth) and has appeared in many productions with Kentucky Shakespeare. Maupin is also a charter member of Brooklyn's Under the Table Ensemble as well as a graduate of Dell'Arte International School of Physical Theatre. He and his wife Abigail are the ukulele duo Rannygazoo.
During the pre-production process, the ghosts were embodied by Louisville motion capture artists Brittany "BeeBee" Patillo (Dracula: A Feminist Revenge Fantasy) and Kavin Moore, who serves as Actors Theatre's Line Producer. These ghostly creations are voiced by Maupin, who also is the narrator of Dickens' story, playing Ebenezer Scrooge as well as the whole vibrant cast of characters he encounters. This inventive, live theatrical adaptation of the festive classic tale comes to life through the collaboration of XR creative studio Agile Lens and the design team at Actors Theatre.
This production is adapted and directed by Executive Artistic Director Robert Barry Fleming, whose recent directing credits include the world premieres of Still Ready and Grace, a new musical developed by Actors Theatre that opened at Ford's Theatre last spring. A Christmas Carol: Ghost Story memorably explores how Dickens' interest in addressing social injustice resonates today, retelling this beloved holiday ghost story in unexpected and revelatory ways.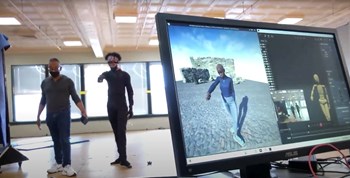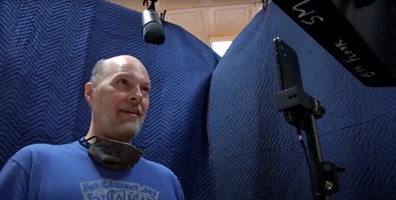 The above photos are from the rehearsal process of the 2021 production of A Christmas Carol: Ghost Story and provide a glimpse of the team's work to create the ghosts using motion capture technology. Pictured: Kavin Moore, Robert Barry Fleming and Kavin Moore, Gregory Maupin.
Photo Credit: Actors Theatre of Louisville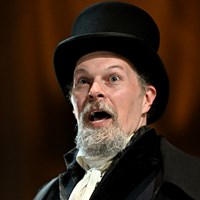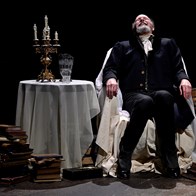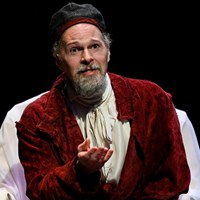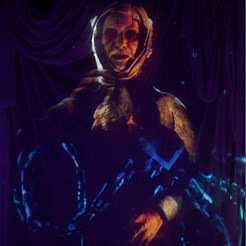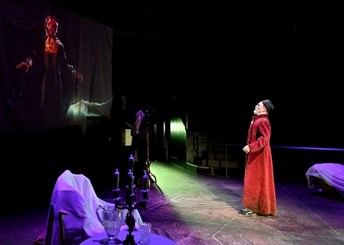 The above photos are from the 2021 production of A Christmas Carol: Ghost Story. Pictured: Gregory Maupin, motion-capture art.
Photo Credit: Jonathan Roberts
---
The creative team includes Scenic Designer Katelin Ashcraft, Costume Designer Anna Jenny, Lighting Designer Dani Clifford, Sound Designer Paul Doyle, Projection Designer Philip Allgeier, Stage Manager Alex Murphy, Assistant Stage Manager Jake Allen Miller, XR Producer (Agile Lens / Heavenue) Alex Coulombe, XR Producer (Actors Theatre of Louisville) Zachary Meicher-Buzzi, Digital Performance Specialist (Agile Lens) Rob Lester, Project Manager and Digital Costume Artist (Agile Lens / Heavenue) Yu-Jun Yeh, Technical Artist (Agile Lens / Heavenue) Adam Vosburgh, XR Performance Consultant (Agile Lens / Heavenue) David Gochfeld, Director of Production & Operations Paul Werner, Technical Director Alexia Hall, and Casting Director Emily Tarquin, CSA. For the full list of credits, please click here.
---
Safety Protocols
Actors Theatre of Louisville has recently removed masking from our safety protocols. Audiences are encouraged but not required to mask.
More information on our safety protocols.
---
The run of the show sold out within hours of releasing tickets for sale to the general public. However, please contact Communications Coordinator Ben Gierhart at bgierhart@actorstheatre.org to discuss coverage opportunities. We appreciate your coverage and support as we reimagine a 21st-century theatre where art, technology, and social transformation meet for a storytelling (r)evolution.
---
Supported By: